News Click | Tarique Anwar |  12 May 2018 |
So far, 765 teachers have already been removed from different engineering colleges across the country.
At least 1.5 lakh qualified and experienced teachers will be terminated or will be made to resign forcefully from most of the self-financing and private educational institutions of various states, estimates All India Private Colleges Employees Union (AIPCEU) – a forum of 10,000 engineering professors across states. With the end of the academic year, a number of engineering colleges in Maharashtra, Tamil Nadu, Chhattisgarh, Andhra Pradesh and Telangana have started removing staff members. This is apparently a consequence of implementation of a new student-faculty ratio (SFR) – which is 1:20 – by the All India Council for Technical Education (AICTE) for the academic year 2018-19. The ratio was earlier 1:15 in private and self-financing engineering colleges for BE, B Tech, B Arch, MBA, MCA and hotel management. It was 1:20 for diploma in engineering courses. However, the SFR of 1:15 for engineering and technology and other programs such as MBA, MCA, HMCT and M.Pharma has been "irrationally decreased" to 1:20. For diploma, the earlier 1:20 ratio has been lowered to 1:25.
The table below lists number of teaching staff who have already been terminated from different technical institutions across the country: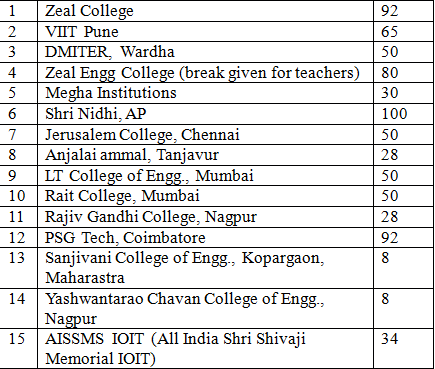 "This is going to have a negative psychosis in the minds of the students, who had just gone for their vacation. When they return, they will have to adapt with the reduction in the staff members. Since some colleges remove more staff members than required and replace or plan to replace them with less experienced new staff, who could be paid low salary, students will have to face a lot of incompatibility issues and diminished morale," said AIPCEU founder KM Karthik. Some colleges remove ad hoc staff members, whereas some will target senior staff members. "All these teachers (ad hoc or senior) are reportedly well-experienced to serve as teachers. All of them are master graduates in engineering, and it cannot be said that they are unskilled or poorly talented," he said.
Fees remain unchanged
It is noteworthy here that the students, who have just passed first year of the course, will have to study for the next three years with the same fee structure, but with less staff strength. The fixing of a standard fee in colleges is done by a fee fixation committee under every state's higher education department (or the Directorate of Technical Education). "Not even a single state government has modified this fee structure for students before reducing their staff strength as per the AICTE's new SFR ratio. The change in this ratio (from 1:15 to 1:20) is likely to render 25 per cent staff being removed from the institutes," alleged Karthik.
Accreditations/NIRF rankings void?
The accreditations by the National Board of Accreditation (NBA), National Assessment and Accreditation Council (NAAC) and National Institutional Ranking Framework (NIRF) are now allegedly nullified due to the implementation of the new SFR policy. "Very few top-ranking, self-financing institutes still retain their old staff strength. For other institutions, reduction in staff strength with AICTE's ruling is just like cutting a cake with a knife. So, all accreditations that had happened are not applicable for the new atmosphere," added Karthik.
AICTE and Trusts in nexus?
The AICTE continuously highlights closure or reduction in number of of colleges and seats, which is "intentionally" reducing the positive perception towards education. "Unfortunately, the AICTE supports such a move despite being a regulatory body," said Karthik, adding, "When there are plenty of available areas of improvement, AICTE projects only the closure of seats for the last complete month, hinting towards being in the hands of college-owning barons, who could twist the facts to aid their education-business". It is learnt that the AICTE decided to reduce the faculty to help the institutions recover from financial burdens. It raises a big question as to whether the AICTE has monitored or cross-verified the institutions' bank statements along with the faculties' salary statements. The answer is negative. "It is clear that even after demonetisation and digital economy initiatives, the AICTE is not bothered about digitising the students' fees and staff salaries in the institutions. Issues are of meager importance that are being promoted by the AICTE and important issues are being summarily disregarded," said Karthik.
In implementing new faculty student ratios, the AICTE – according to the petitioner – has broken the transparency that it followed all these years. The matter was allegedly not released in public domain prior to the decision. The decision was imposed over the society in an autocratic manner. "The AICTE had acted on the advice of associations of the managing trusts of colleges. Every trust is not a non-profitable service organisation, and largely are money-churning, family-owned organisations. Some AICTE officials have acted in nexus with these trusts, making a secret society, and the new faculty-student ratios are only a result of the meetings in these secret societies," he alleged. During the academic year 2015-16, the total number of staff in all the approved institutions of AICTE was about 7,00,000 (as per the records of AICTE). It is further stated that for engineering & technology colleges alone, the number is a staggering 5,78,000. Even if the number is taken as an approximate of 5,00,000, said the petitioner, the same accounts for 5,00,000 families with direct benefits from the employment in these private engineering colleges. – Courtesy