Home » Posts tagged 'Approval process'
Tag Archives:
Approval process
News Click | Tarique Anwar | 03 Mar 2018 |
Teachers' body approaches SC against AICTE's 'Draconian' diktat on staff-student ratio.
The table below is tentative number of professors who shall get affected and lose their jobs: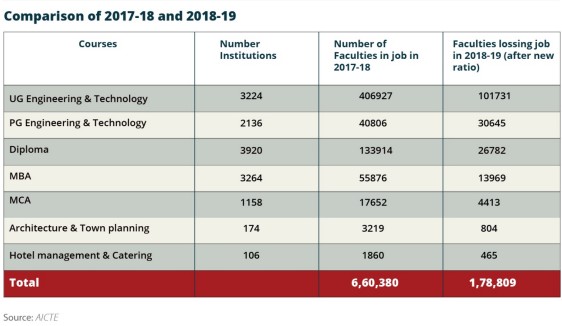 Throwing the whole professional education system into chaos, an estimated 1.78 lakh techers in private engineering, MBA, hotel management and other professional courses will be thrown out after AICTE, the regulatory body that looks after these colleges changed the faculty-student ratios. Teachers of these colleges have rushed to the Supreme Court seeking withdrawal of the new ratios. Their petition may be heard on March 9. The All India Council for Technical Education (AICTE) declared that faculty-student ratio will henceforth be 1:20. Earlier, the ratio was 1:15 in private and self-financing engineering colleges for B.E/B.Tech/B.Arch, MBA, MCA, hotel management and 1:20 for diploma in engineering courses. The faculty-student ratio of 1:15 for engineering & technology and other programs such as MBA, MCA, HMCT, M.Pharm has been "irrationally decreased to 1:20". For diploma, the earlier 1:20 ratio was converted in to 1:25.
The Private Educational Institutions Employees Association (PEIEA) of Tamil Nadu along with other self financing college teachers' associations of Telengana have approached the Supreme Court for stay and withdrawal of AICTE's new faculty-students ratio. "The total numbers of jobless professors after implementation of new ratios in all AICTE-monitored courses shall be around 1.78 lakh (one lakh faculties in private engineering colleges alone). It is stated that the new faculty-student ratio is not only going to create a defective education system but is also going to be liable for a loss of a massive amount of intra-national brain drain. Students presently opting for B.E/B.Tech or other technical education will not opt for it in future due to scarce quantity of teachers at engineering colleges. These students will opt for science and arts degrees, which cannot develop and stimulate the knowledge of students similar to the level of engineering or other technical education. Naturally, as a result of this anticipated downfall, the youth shall lose in global competition and nation shall also lose many crores of its technically qualified human resource," PEIEA President KM Karthik said in his petition. Further, the professors – said the petitioner – who are retained are also going to come under the thumb of the management of private institutions and shall be intimidated to work for less salary because of the fear of being replaced by those who lost their jobs.